Hi there!
How would you feel about enjoying debt-free holidays this year??
Avon can be the answer!!
I am writing to invite you to get started, just in time to earn the extra money you need this holiday season, while also saving 40% on many of your own holiday purchases!!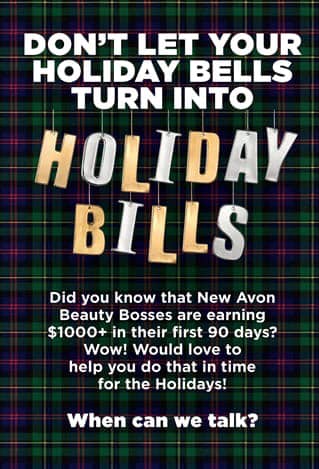 Perks of being an Avon Representative:No required minimum orders.
NEW Flexible Ordering Schedule
Buh-bye, Fixed Order Dates!! HELLO, FLEXIBILITY!!
No expensive inventories to stock.
Earn online or face-to-face.
Sell whichever way you prefer, earn the same either way!
Earn up to 40% right from the start!
Tons of support!
Unlimited earnings potential!
Earn on every dollar of your personal sales!
No Minimum Orders! You sell, you earn!
Cash bonuses as you help others to join Avon!
Cash bonuses (up to $20,000!!!) as you build your business and advance in title!
Fun incentives and opportunities to win or earn amazing rewards,
like the upcoming trips to MAUI and LOS CABOS, MEXICO!!
Amazing new products, which your customers will love!
Check out the pics at the end of this email,
for a preview of this year's holiday collection!
Getting Started is So Simple!
Go to: www.startavon.com
Use Reference Code: beautysaywhat
Please reach out to me if you have any questions!
I'd love to tell you more!_____________
Avon Independent Sales RepresentativeAs a new representative,
you could be enjoying a40% discount on these items,
while earning 40% on your sales to others!!